Brooke Pointe resort welcomes families to come stay in our family suite rooms and enjoy time together. This stay-cation package was created as a way for families to bond together on the hotel grounds. We are a family friendly resort with tons of activities for the kids. This package can be reserved for as many days as you wish either during the week or the weekend. Typically most families will reserve this package for either one or two days. We encourage you to book weeks or months in advance as family rooms are limited.
Brooke Pointe Resort is just like a regular hotel. Bring what you will be comfortable in for playing games and relaxing. By all means bring your swimming gear to enjoy the indoor salt water pool that is always heated to 89 degrees. If you would like to check out our outdoor amenities such as a gaga pit, tether ball,  and hiking trails in our family cove area, then bring appropriate dress for being outdoors. You are more than welcome to bring any games or snacks or the goodies. This is your Family Escape, so spend it how you want.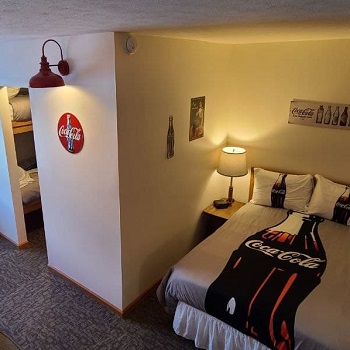 Space is limited so we urge you to call 574-457-4466 and ask for the next available date.
Family suite which sleeps up to seven people.
Welcome goodie basket.
Indoor heated salt water pool – 89 degrees.
Outdoor Family Cove activities – tether-ball, gaga pit, walking trails and much more.
Fun board games to play with your family.
Two large pizzas and soda pop for your family the first night.
Available any day of the week or weekend.